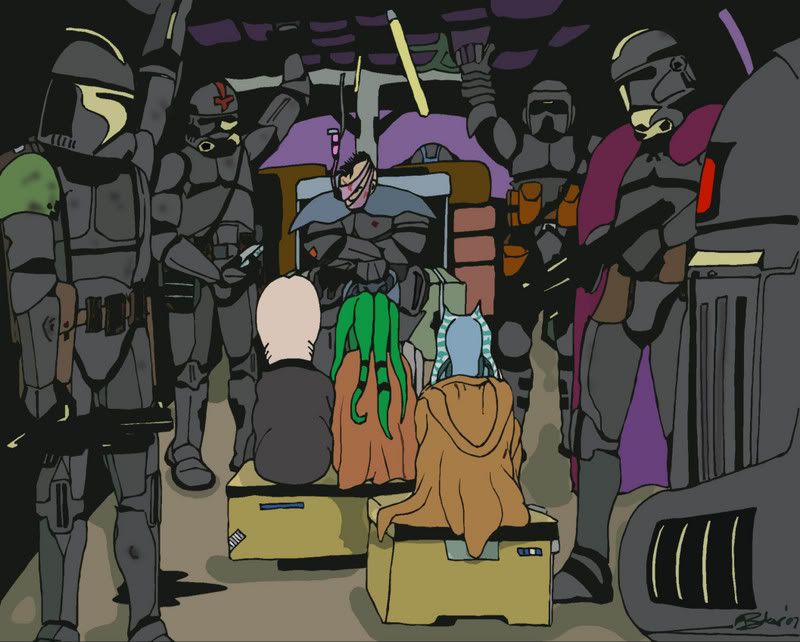 The guts of the gunship had been stripped down to their bare essentials and were as dark as the obsidian exterior. A quartet of jaundiced glo-sticks swung from the roof web, providing the only illumination and this, combined with the heady odor of engine oil and seven men, was too smothering for Scarp. He sat on a tub of something that had to be explosive, and rested his head on the cool metal of the exposed fuselage, staring through one of the vertical slits the troopers used for view ports. Below him a parched orange flatbed of Kiffu sped past in a blur, the solid color broken once or twice by the darker ruins of long abandoned lightning harvesters.
Kiffu truly was a ghost planet.
As he tried to quell the anxiety gnawing away at him, Scarp kept one ear on his brother and Sgt. Calz.
Pel was standing, hanging onto the overhead webbing and facing the old warrior.
"How long until we reach Miner's Rest?"
Calz flipped open his holo-projector and the circling buildings sprang up into the gloom, surrounded by numerical data and flashing triangles. A green dot pulsed in the center of the stack.
"ETA fourteen minutes, twenty seconds. That green marker will be our ticket out of here."
"Great, some more down-time." The sarcastic voice drifted from the front of the ship and one of the other clones laughed.
Calz chose to ignore it and removed his helmet, fixing Pel with a tired stare. "OK, Jedi. We all know why we're here, and you've made a wise choice to come along with us. However, I'll be honest, I've seen what Jedi can do, and I admire your… abilities, but I don't think we totally trust each other, and with good reason."
"I sense no hostility in you, Sergeant."
"That's what I'm talking about. You can quit with the mind reading. I don't want you probing around in my head, and believe me, I've worked with enough of you to know when it's happening."
Calz hadn't raised his voice at all, but his words couldn't have made more impact if he had broadcast them through a Flaff'ert Horn.

"Understood, Sergeant."
Pel studied the grizzled warhorse for a few seconds, at once amazed and saddened that a person who had not yet reached twenty years of age could look so old. He reflected on the Sergeant's attitude toward him.
Everything truly had changed.
A little over a week ago, this trooper would have been calling him General, Commander or even Sir; now he was just 'Jedi'. It was extraordinary how the word could be made to sound so contemptuous, but he understood how conflicted Calz and his men must have felt. Pel, Scarp and the younglings were the first force-users the troopers had met since Order 66, following their decision to 'take matters into their own hands'. By now the lies had spread far and wide, propagating the belief that the Jedi Order had turned on the Republic, but thankfully there were clones that had begun to question their orders, 'free thinkers that slipped through the Kaminoan nets' as the Council had once described them; secretly encouraging their individual liberation.
"What about them?" Calz indicated with his thumb toward Soolad, Janst'orr and Lig huddled together on a stack of storage lockers in the middle of the deck, surrounded by dark armored troopers.
"The younglings?"
"We don't need kids getting under our feet when we're working."
"I assure you, they won't get in your way, Sergeant. These children could be more helpful than you seem to think."
"We'll see about that. I'll admit they seem to be taking this pretty well." He rubbed a raw scar on his chin and looked at the tiny padawans. "Do they even know what's going on?"
"Not yet," Pel smiled, "but they soon will."
Virus, once known as CT-2206, gazed down at the trio of younglings and raised an eyebrow. The Bith looked like his eyes would burst at any second, and the little tentacle-head returned his stare with a frown. However, the one in the middle, the one with aqua stripes on her head tails, held his look and smiled in return.
"I'm a healer, too," she suddenly said, taking him doubly by surprise.
The scout trooper, Peko, cocked his head and looked at Lig.
"You can talk then."
"Of course."
"So how'd you know Virus is our medic?"
"The Force told me."
Peko threw his hands up and strode around Virus to join the busy pilot in the cockpit.
The medic knelt down in front of Lig and removed his helmet.
"Don't worry about Peko, he's never got used to you lot…"
Janst'orr's teeth flashed, but not in a grin. "What do you mean, 'you lot'?"
"Force users, " replied Virus unapologetically, "you freak him out."
"We freak him out?" said Soolad quietly, turning to look at the other visors bearing down all around him. Lig placed her hand on the back of Soolad's neck, and he relaxed instantaneously.
She smiled sweetly at the medic. "Where are we going, Virus?"
"Your bosses didn't tell you yet?" Virus reached into a pouch on his belt and pulled out a long, cuboid container. He depressed a button on one end and a drawer slid out of it, revealing several tiny globes that seemed to quiver with the vibration of the ship's thrusters.
"Thirsty?" he said to Lig, and he reached in, taking one of the gelatinous spheres and popping it into his mouth.
"Very," she replied, and took one of the globes from his outstretched hand.
"What are you doing?" hissed Janst'orr, "it could be poison!"
"I don't think so," replied Lig, and she placed the ball onto her tongue. As she bit down it seemed to explode in her mouth, filling it with the sweetest water she had ever tasted and squirting out onto Virus's chest plate.
"Don't waste it!" he laughed, and then offered the container to Janst'orr and Soolad.
A quick check to see that Lig was still breathing was all it took for the other two to hastily grab a globe each and ram them into their mouths. They hadn't had fresh water for days.
The look on their faces was enough to tell Virus that the treats were appreciated, and he hid the container back in his belt. "They're Felucian grub polyps, pretty good eh?"
Soolad swallowed hard, then coughed. Janst'orr looked like she was chewing a swamp-wasp.
Virus nodded his head toward Pel as he continued. "When we met your boss here, he said you lot had been hiding that harvester for a week now."
"That's true," said Lig, warming to the clone very quickly, "Masters Pel and Scarp brought us here for survival training, two days before the…" her voice petered out in a whisper.
"Before the order came through, I get it," Virus sat fully on the floor of the deck now, his armored legs splayed either side of the younglings' seats, "looks like the training paid off."
He studied the little Togruta; her delicate features and tiny frame.
What was the Jedi Order thinking of, training children for the war?
He suddenly saw the irony in his line of thought and smiled ruefully to himself.
Lig looked at the troopers surrounding their little party, hanging on every word.
"Do you all have names?"
"Sure," replied Virus, "we used to have numbers."
"Before we became aruetiise, " hissed the trooper next to Soolad.
Calz's head snapped around and he looked vibro-daggers at the armored man. "If I hear that one more time from you I'll be letting you off this crate, and we won't land first."
"Sorry, Sarge."
Virus looked at his Sergeant, then back to the younglings. "You've already met Sergeant Calz,"
"Why is his armor different?" interrupted Soolad.
Virus looked back to Calz. The old man was deep in conversation with Pel. The reverence for him was palpable in Virus's tone. "He's one of the originals. He's done it all. Refused promotions so that he could stay with his squad, and paid the price by being dumped on every backwater poodoo mound in the outer rim. I'd follow him to the end of the galaxy."
"Looks like you're gonna."
The children turned with Virus to the source of the comment; it was the trooper who had just been reprimanded.
Virus winked at him. "All the way, Rece." He turned back to Soolad who seemed to be most enamored with the statuesque troopers. "This is Rece, formally of the 38th, joined us with Peko, our scout."
Soolad looked to the front of the ship and could see the top of the scout's helmet above the brace.
Virus continued. "Rece can drive anything, as long as it weighs over sixty tons."
"That's just my speeder, ner'vod," added Rece, a touch of lightness finally in his voice.
"On the other side of the cabin is Digger, he's from my battalion, the 442nd."
"Yeah, despite Virus's best efforts, I'm still standing," Digger chuckled from behind his visor.
Virus craned his head back to the cockpit. "You haven't met our pilot yet. Another original, he served with the Sarge. Hey, Carud, give the kids a wave!"
A black-gloved hand appeared, silhouetted against the violet stained sky, and did a mid-air salute.
Lig had left her crate and moved closer to the bandaged man. His head was drooped and fresh bacta dripped down to soak into the bandages covering his face.
"Who is this?" she said, sidling closer still.
"That's Rev, short for Marev, it means 'fist'"
Lig looked more closely at Rev, and then placed her hand on his leg. He didn't move. Virus watched her, curious.
"He's first in and last out, which is why he usually ends up this way. He fought with General Windu."
"Why is his armor different?" Soolad had edged forward to get a better look, but he still wasn't brave enough to fully leave his seat.
"You like that?" Virus grinned, he's scrapped so many SBDs now, that he's taken to wearing their head plates, confuses the hell out of mechs, and scares the muck outta wets."
Suddenly Lig's tiny voice cut in.
"His head is broken."
"What?" Virus shuffled over to where Lig stood, one hand on Rev's bandaged forehead, the other on his arm.
"His head is broken. Master Pel?"
Pel looked over Calz's shoulder and caught her look.
"Yes, youngling?"
"Can I mend him?"
Pel looked at Calz. The sergeant shrugged. "As long as she doesn't kill him."
Pel nodded at Lig, then noticed that Scarp was intensely watching her. Lig was Scarp's pride and joy; it was inevitable that she would become his padawan. However, then there was the matter of training Soolad and Janst'orr.
Lig closed her eyes as Virus studied Rev's vitals, displayed as a series of projected colored lines on his thigh plate. Other than the throb of the engines, all was still. Virus suddenly realized he was holding his breath and exhaled slowly, quietly, turning off his external mike so as not to distract the little force-user. Then, as soon as she had begun, Lig pulled back and smiled. "Everything's back where it should be."
Virus studied the lines, which were indeed reading normal rates for a fit young man. He leant forward as Rev slowly opened his exposed eye.
"How do you feel, Rev?"
The wounded clone coughed, and then spat a clear globule onto the deck. "Headache's gone."
Virus shook his head slowly and looked at Lig.
"He had a fractured skull."
"Now it's better."
Sergeant Calz nodded curtly at Virus, then turned back to Pel. "She may be of use."
"I'm happy to hear that, Sergeant." Pel looked over to Scarp, who was beaming from ear to ear; the first time in many days.
As Lig sat back down, Janst'orr's eyes followed her, and Lig could detect a trace of fear in her. Before she could act on this, a high voice sounded out.
"I've seen clones before," it was Soolad, feeling braver now that the grub polyp had re-hydrated him a little, "and they're white. And shiny."
"Not all of them," replied Virus, "you never seen RC's?"
"He means commandos," interjected Janst'orr, determined not to be left out of the conversation.
"Republic Commandos, missy," corrected the medic, "and what about ARCs? Pretty as a shrill-hen, some of them."
"Why are you called Ashes?" asked Lig.
"It's a long story," started Virus.
"And one that can wait," interrupted Sergeant Calz, suddenly slinging his DC-15 onto his shoulder, "ETA three minutes."
Virus jumped to his feet. "You kids better go sit with your bosses. Time for the Ashes to go to work."